FC Instagram
Quickly build an effective for your project with this template.
# Step 1: Create a Facebook App
Go to developers.facebook.com, click My Apps, and create a new app. Once you have created the app and are in the App Dashboard, navigate to Settings > Basic, scroll the bottom of page, and click Add Platform.
Choose Website, add your website's URL, and save your changes. You can change the platform later if you wish, but for this tutorial, use Website.
https://fc-share.gitlab.io/fc-template-instagram-document/auth/
# Step 2: Configure Instagram Basic Display
Click Products, locate the Instagram product, and click Set Up to add it to your app.
Click Basic Display, scroll to the bottom of the page, then click Create New App.
https://fc-share.gitlab.io/fc-template-instagram-document/auth/
# Step 3: Add an Instagram Test User
Navigate to Roles > Roles and scroll down to the Instagram Testers section. Click Add Instagram Testers and enter your Instagram account's username and send the invitation.
Open a new web browser and go to www.instagram.com and sign into your Instagram account that you just invited. Navigate to (Profile Icon) > Edit Profile > Apps and Websites > Tester Invites and accept the invitation.
Your Instagram account is now eligible to be accessed by your Facebook app.
# Step 4: Authenticate the Test User
Access the token generator in the App Dashboard > Products > Instagram > Basic Display tab.
Click on Generate Token button for Instagram Tester user of your app. Please note Tokens can only be generated for public Instagram accounts.
Authenticate if requested, follow the instructions, accept permissions and copy the Access Token it appears.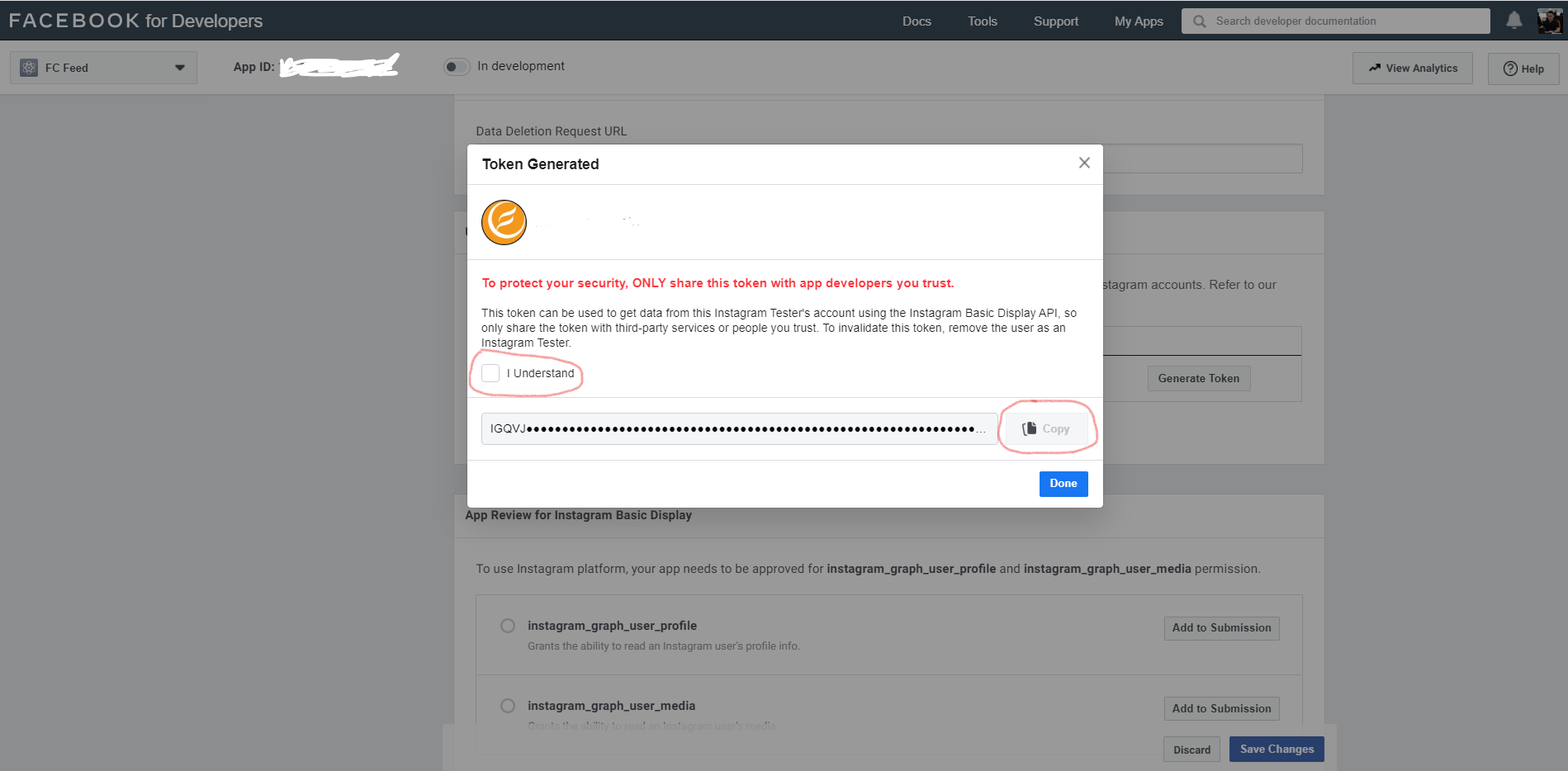 Completed!!!